I originally shared this recipe on Instagram and Facebook just as something quick and easy (and delicious) I make when I'm feeling like my body needs a bit of healing and a little anti-inflammatory kick. It was just something I jotted down with rough directions, and I had no idea this lemon ginger iced tea would become so in demand! So I decided to put it up on the blog here as well for reference — things get buried away so quickly on social media, and I thought since so many were making this recipe or preparing to make it that it would be good to give it a little dedicated spot on the blog too.
I first started making this healing iced tea at the recommendation of a naturopath as an anti-inflammatory aid and something to support the healing of the body. The recommendation given to me originally was to just boil some lemon and ginger together to then have as a natural tea. But… a). I'm not an herbal tea person, b). I'm not a big fan of ginger — well I am, in certain dishes, and of course in dessert, but on it's own I can't enjoy the intense flavor, and c). I really detest drinking medicine of any kind… :S I'd rather just swallow and get it over with… The bottom line is that when I don't enjoy something to that degree, I fail to make it a lifestyle, and even if I make it once or twice, it inevitably gets forgotten…
However, at some point I had a stretch of bad days dealing with inflammation, so I decided to try everything I knew of, including the lemon ginger concoction. Except in the process I decided to throw in everything anti-inflammatory I could think of that just made sense. So turmeric was a given, and cinnamon too. Then I added a bit of maple syrup to round things off. And to my surprise it turned out yummy.
And what was even more of a surprise was how delicious it tasted the next day as an iced tea. I made too much of this stuff to drink in one go. My intention was to sip on it slowly through the day, and so I just cooled it and put it in the fridge. Once it completely chilled it turned out to taste AMAZING. And the perfect healing drink to sip on when your body needs a little TLC… Well, actually it's just a delicious drink period. If you like flavored drinks, iced tea, etc., I know you'll love this.
I know many of you probably already make similar things. My drink isn't exactly revolutionary :)  In fact that is why I didn't think to even share this recipe on the blog originally, but just as a quick social share. But since so many were excited to try it, and excited at the idea of it even, I want to give this recipe a more well-rounded presentation so you know exactly what you're getting and how you can tweak and modify it to suit your needs.
For starters, here are some of the things that inspired me about the ingredients in this iced-tea:
Lemons: known to reduce inflammation, reduce phlegm, it's a toxin flushing diuretic, it's anti-bacterial, aids with digestion, reduces respiratory symptoms (asthma), helps with headaches, reduces edema and bloating, reduces nausea, dizziness, helps with blood pressure, and a million other things. So really, even if you're not making this tea, drinking lemon water is always a good thing to include in the day.
Ginger root: besides being an amazing anti-inflammatory agent, ginger also helps with digestion, reduces nausea, reduces joint & muscle pain, clears sinus flare-ups, aids with nutrient absorption, helps to fight physical and mental degeneration, helps with menstrual pain & cramps, an amazing immune-booster, and more…
Turmeric: a super anti-inflammatory food, an amazing immune-booster, and according to studies it's an amazing superfood for those suffering from auto-immune disorders such as IBS, IBD, & Crohns, and UC, arthritis, and many other auto-immune conditions, & moreover it's said to be an amazing cancer fighter. It's a great anti-oxidant, anti-fungal, and I think I can really write an essay based on all the studies done on this curing root, but you get the idea ;)
Cinnamon: an amazing digestive aid, a blood sugar-lowering food, a candida fighter, an immune booster, an anti-oxidant, and anti-bacterial, an anti-fungal, virus fighter, and more.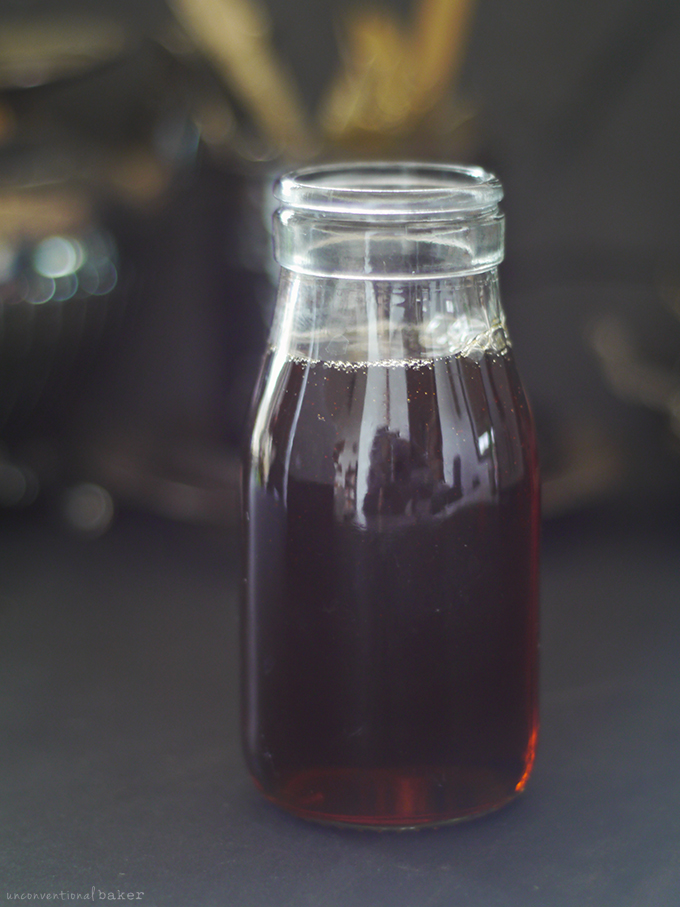 Maple: ok, I didn't include this one exactly for it's healing properties ;) …more for flavor. And yet, maple syrup does sport some good healing properties as well. It's an anti-oxidant, an anti-inflammatory agent that is particularly helpful to those with IBD, and is full of vitamins and minerals too. Sure drinking gobs of maple syrup isn't going to make anyone healthy… but I do personally consider it one of the healthier sweetener alternatives due to these factors (and the fact that it's delicious helps ;) ).
Note: I am not a nutritionist, doctor, or a scientist by any means and the above information is just a list of things I've become aware of over time in my research of studies done on these ingredients, and my own experimentation with healing foods. So take it as a rough guide and do your own research if you care to know more or verify any of what I wrote. I just hope it gives you an overall idea of the amazing things that you'd be consuming in this simple iced tea.
Before we dive into the recipe, just wanted to share that I normally don't measure the ingredients in this for myself. Just go with the flow and use what I've got. So you can adjust the flavors as you like, especially after your first trial of the recipe. Like a stronger lemon flavor? Add more in. A milder ginger flavor? Chop it very coarsely. Less sweetener? Go for it! Etc. You get the idea.
P.S. Someone was asking what my favorite brand of turmeric is for this recipe… while I'm not overly picky with my spices, Simply Organic is one of my favorite brands of turmeric.
Print
Anti-Inflammatory Lemon Ginger Turmeric Iced Tea
---
Author:

Audrey @ Unconventional Baker

Prep Time:

5 mins

Total Time:

5 mins

Yield:

3-4 cups
Ingredients
1½ qt water
½ a lemon, sliced or rough chopped (or more to taste), rind included
1″ ginger root, rough chopped (or more to taste)
big dash of turmeric
big dash cinnamon
2 tbsp maple syrup (more or less to taste)
---
Instructions
Fill a 2 quart pot about ¾ full with water. Add in all other ingredients and bring to a boil on the stove. Reduce heat and simmer for 10 minutes. Then remove from heat and allow the drink to cool off. Strain into a glass jar.
Chill overnight in the fridge for an iced tea (or enjoy hot straight away)!
Notes
If you're planning on making a larger batch of this, just note that after a day or so in the fridge you'll need to shake it and then strain it through a sieve into your glass to avoid getting any residue in your cup.
Enjoy it & I'd love to hear how you like it!
x Audrey
~~
Disclaimer: this post contains an affiliate link to the turmeric powder I use by Simply Organic.